Hi there

I got my 2nd Sunshine award yesterday (7th May '10)...woohoo.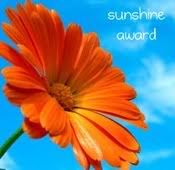 Thanks so much Pink
(
Pink's Poetic Scraps
)
for giving me this wonderful award, please make sure you check out her fantatic blog
HERE
.
I am going to pass this on to 3 great designers who brings sunshine to my life as follows:
Crafty Scraps
Gloria Retreats
MJH Designs
Thanks and take care.