Hi there
Sorry I have not posted on my blog for a while but below is the reason why...
We had a beautiful son called Connor who was born on Thursday, 4th June '09 at 2.39 pm by emergency c-section (cesarean) after being induced for a total of 6 hours at maximum dosage of #20 on drip but my cervix never opened which means I did not dilate at all even though I was having strong contractions 3-4 every 10 minutes.
He weighed 7lbs 7oz. He was exactly 2 weeks early on Thursday when he was born (I was 38 weeks preggie).
He had a few complications - jaundice but cause it got it within the first 24 hours they were a little worry as he also had low sugar levels cause they went down to 2.1 at one point and should be at & above 2.6 in the end they went up to 3.5, he keep having the jitters e.g stretching out his hand and spreading his fingers look like he was having a fright on Thursday evening and I was not happy as it was getting worst so they took him away and did some test and this is what they found out, so I then had to breast feed him and then do top-ups (bottles) as well which the nurses/midwifes done due to the face I could not pick him up.
I had some fantastic midwife/nurses/team staff looking after me while in hospital with Connor, I could not of done it without them, they made me feel so welcome.
Below are a few pictures of him...
He was nearly 2 days old when this was taken: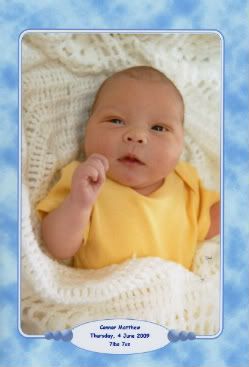 He is 6 weeks old when this was taken:
He is 7 weeks 1 day old when this was taken:


Anyway life is just so manic right now but I love being a mummy.

Take care.